Insight
What COVID-19 Means for Sponsorships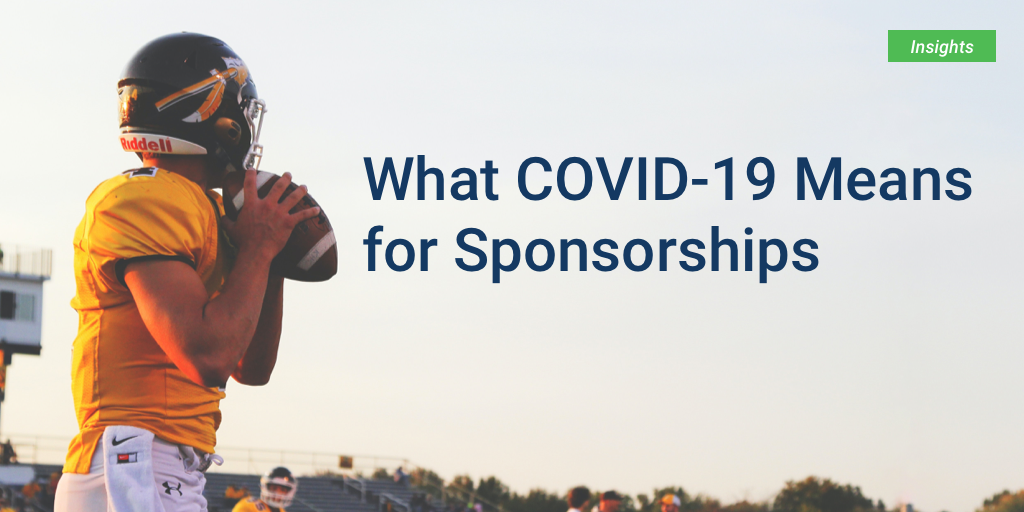 ---
What's Happening Now
In the last few weeks, we've seen a massive shift in the way people in the United States and other coronavirus-affected countries are going about their days. COVID-19, the disease caused by the coronavirus, is forcing our whole country to take drastic measures to prevent the spread of the illness. Sports have been affected in a way few would ever have guessed: with leagues around the world postponing seasons and live events being cancelled. As a result, brands have been left with no stadiums or tv screens with which to spread their message. With the CDC encouraging social distancing and many local governments taking executive action to close non-essential establishments, brands are wondering, "what will people turn to for entertainment?"
Esports.
The Switch to Digital
Fortunately for those practicing social distancing, there is an opportunity for fans to still get their sports 'fix' online through online gaming. In fact, many users have already switched to online gaming in the first month of the state of emergency.
Twitch, a video live streaming service known primarily for its video game streams, is reporting nearly 210,000 more average concurrent viewers this month (as compared to February), along with over 11,000 more average concurrent channels. This has resulted in 147 million more hours of Twitch viewership in March—a total of 1,129 million hours of Twitch content was streamed in March alone.
Steam, a video game distribution platform with over 100 million monthly active users, hit its all-time concurrent user peak on March 14th and March 15th. In a 24 hour period, 20 million people were on the platform with nearly 6.4 million viewers actively engaged in playing a game.
The numbers make it clear; people are home and are turning their attention to online gaming.
Opportunity for Brands
As sports fans turn to esports, brands want to know how they can get in on the action.
Properties such as Formula 1 have reacted quickly with launching a virtual Formula 1 Grand Prix Series. The series will take the place of every Grand Prix, with participants ranging from racing superstars like Lando Norris to celebrities Liam Payne (of the former band, One Direction).
With the draw of these household names, previously untapped fans will be tuning into these online events, and many will become esports fans. By sponsoring these online events, be it through league sponsorship, team sponsorship, or individual player sponsorship, brands can continue to keep themselves top of mind for consumers. And, with online discourse still up and running, creative digital activations have the potential to reach consumers through many digital touchpoints.
Through the shift to digital comes the potential for brands to reach consumers at a time when many have more undivided attention than ever before. By sponsoring within the esports now, brands can establish themselves as mainstays in the emerging esports market, endear themselves to fans before they become overrun with advertisers, and capitalize on the opportunity to get in before it's oversaturated with sponsorship.
Long Lasting Effects
Unfortunately, it's difficult to discern how long COVID-19 will put traditional sports on hold and what effect it will have on the industry as a whole. On the bright side, there's potential for social distancing to turn temporary, casual esports fans into permanent, super fans, due to extended time to watch and the need for entertainment to fill the hole left by traditional sports. With esports providing many of the perks of traditional sports, from betting and fantasy teams, to player intrigue, and allegiances to teams, many viewers may find it to be just as fulfilling as watching the USWNT win the World Cup or cheering as Kobe Bryant scored 60 points in his final professional basketball game with the Lakers.
And when they do, forward thinking brands will be there to run them down the field.
How Can FanAI Help?
To learn more about attribution in the time of digital sponsorships, reach out to [email protected]
About FanAI
FanAI is the first sponsorship data platform to connect audience data to real purchase outcomes. Through a combination of fan data and purchase, social, and streaming data, FanAI's technology improves sponsorship and digital media impact across the sports & entertainment industries. Having access to bottom-of-funnel sponsorship metrics enables brands to make more informed and strategic decisions for their marketing spend which further enables them to engage with the right customers at the right time. FanAI works with brands, agencies, and rights-holders and has raised over $12 million in funding, with a recent series A round led by Japanese conglomerate Marubeni Corporation.
Citations: https://www.theverge.com/2020/3/16/21181272/steam-concurrent-user-record-set-cs-go
https://twitchtracker.com/statistics