AND 2023 IS A WRAP!
In 2023, the Cynopsis Esports & Gaming Business Summit is the only conference that connects marketers to the elusive GenZ audience, through the lens of gaming and esports. This three-day gathering offers attendees the chance to connect with executives and experts from brands, agencies, game publishers, tech providers, teams, and leagues, as well as TV and video platforms. Everyone is looking to grow their business by leveraging the passionate global audience that gaming and esports delivers – and we're the only conference that can help you make it happen.
Isaac Robinson Smith

From running around in his underwear singing "Poor Unfortunate Souls" to the famous striped vest of "The Dapper Dans of Disneyland," Isaac has always been at home when performing. Thanks to his brilliant mother introducing him to theatre when he was barely a person, he was hooked and went on to earn his degree in Theatre from U.C. Irvine, which led to various roles at Disneyland, Universal Studios Hollywood, and the Troubadour Theatre Company. Currently, Isaac is a full-time voice actor for animated shows film and is featured in games such as Saint's Row, Final Fantasy VII Remake, and Marvel's Avengers, among others. You can check out what he's done at irsvoices.com!
Mason Bates

Gaming + Esports

Richard Cox

VP, Men's Merchandising & Design

Amber Dalton

Senior Director of Global Events

Matt Lederer

Vice President, Brand Partnerships

Paul Mascali

Sports Marketing Director - Entertainment, Gaming and Creators

Hannah Davis Tsumoto

Gaming and Esports Marketing Lead

Rema Vasan

Head of Global Gaming Business Marketing

Beth Woodruff

Senior Director of Branding — Strategy, Integrations and Innovation

Heather Blair

Senior Account Manager - Esports and Cinema Venue Solutions

Brandon Herwig

Head of Gaming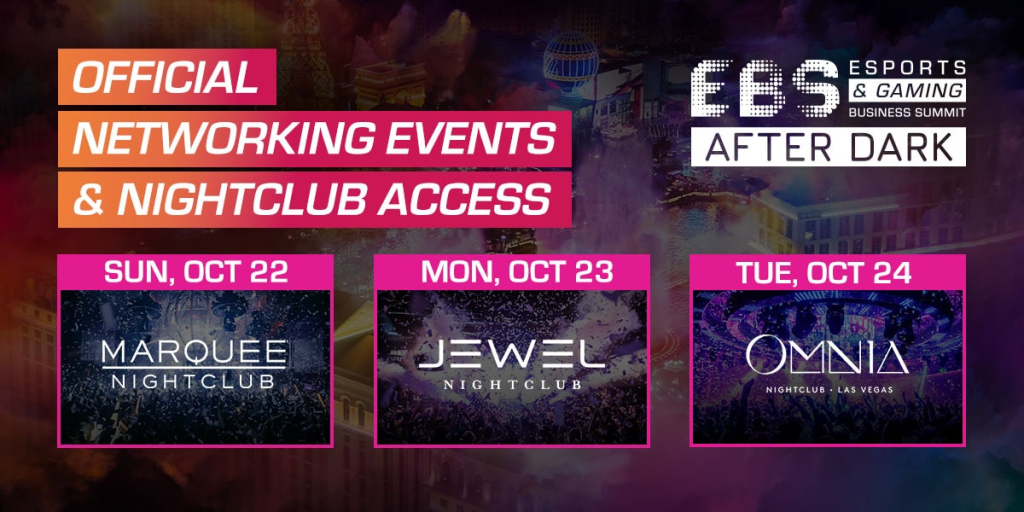 We are excited to announce additional nightlife opportunities at this year's Esports & Gaming Business Summit! The EBS AFTER DARK Package allows you to gain VIP access at three of the city's top nightclub venues, Marquee, Jewel and OMNIA.
The package includes VIP "Guest List" expedited entry complimentary cover and dedicated nightlife concierge services. There is limited availability – buy your pass today during registration.
"Esports Business Summit was a great and valuable experience, due to carefully selected speakers and senior-level participants."
Christian Volk
, Director eFootball & Gaming
Digital Transformation & Innovation Division, FIFA
"Watching an @EsportsBzSummit panel with @MLB @NBA2KLeague @NHL and @MLS. Just another WOW moment of how far esports has come. I cannot wait for next year."
Mike Prindville
CEO, Team Dignitas
"EBS is an amazing opportunity to speak with numerous minds from various angles in esports. In addition, you get to learn so much about future growth opportunities, trends, and even areas that you never knew or thought to have existed."
"I am someone who comes from a business background and I am new to the esports industry. Attending this summit put so many things into perspective for me and really educated me on the esports industry through a business lens, so that it was easier for me to understand. I learned so much and met so many valuable people."
"It is a great conference to learn and have great, in-depth conversations. The networking is the best I've ever seen at a conference."
"No matter where you are in your career with esports there is something to glean from the panels and keynotes. The networking opportunities alone are worth the effort to try to attend,"
"The event had a very inclusive feeling to it, brought together many of the thought leaders and exemplary organizations in a format that was open, collaborative and intimate."