Esports Business Summit
Super League Gaming to Produce 3rd Annual Tempest Awards, October 28th, 2020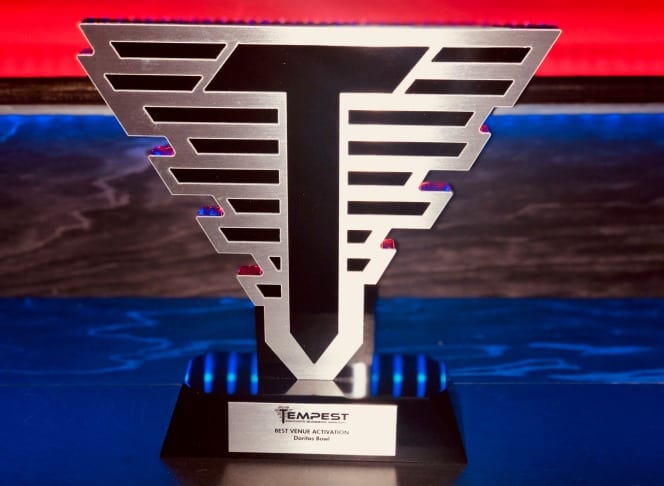 ---
Super League Gaming Named Broadcast Production Partner for
2020 Tempest Awards
North America's top gaming esports industry honors has selected Super League Gaming to produce signature awards show utilizing the company's advanced, fully-remote production system
LOS ANGELES – October 1, 2020 – Super League Gaming, (Nasdaq: SLGG), a global leader in competitive video gaming and esports entertainment for everyday players around the world, and Access Intelligence, the parent company behind the Esports Business Summit, announced today Super League's selection as the production partner to broadcast this year's all virtual Tempest Awards gala on October 28th.
The awards ceremony, which caps off the annual Esports Business Summit (EBS), will be produced on a fully remote basis by Super League, with all award nominees, luminaries, and hosts, and every member of the broadcast production crew participating comfortably and safely from their homes. Super League was selected by EBS for several reasons, including the ease with which the company's veteran team and versatile system can accommodate any combination of pre-recorded, live-to-tape, and live broadcast content within a seamless entertainment experience, even while adjusting for COVID-related production requirements. As a result, the show will feature exciting elements audiences have come to expect in a first-class awards broadcast – namely live, emotional reactions of nominees and winners, engaging real-time interactions between hosts and talent, use of pre-recorded segments, roll-in graphics, and more.
"We are excited to be deploying our proprietary, state-of-art virtual broadcast production technology
and remote production expertise to deliver a first-class Tempest Awards show," says Matt Edelman, Chief Commercial Officer at Super League Gaming. "As Super League has been expanding our production activities outside of competitive gameplay broadcasts, it was a natural fit to partner with the Esports Business Summit to help further entrench the Tempest Awards as the premier esports awards platform in the industry."
"As the primary esports business awards show, it was important for us to know that we could count on a company that would not only help us deliver the best show possible, but also help us build as we transition to a virtual event this year," said Chris Pursell, Chairman of Esports Business Summit. "We were thrilled to see what Super League Gaming has in store and I can't wait for our audience to celebrate with us."
###
About Super League Gaming
Super League Gaming (Nasdaq: SLGG) is a leading gaming community and content platform that gives everyday gamers multiple ways to connect and engage with others while enjoying the video games they love. Powered by patented, proprietary technology systems, Super League offers players the ability to create gameplay-driven experiences they can share with friends, the opportunity to watch live streaming broadcasts and gameplay highlights across digital and social channels, and the chance to compete in events and challenges designed to celebrate victories and achievements across multiple skill levels. With gameplay and content offerings featuring more than a dozen of the top video game titles in the world, Super League is building a broadly inclusive, global brand at the intersection of gaming, experiences and entertainment. Whether to access its expanding direct audience or the company's unique content production and virtual event capabilities, third parties ranging from consumer brands, video game publishers, television companies, traditional sports organizations, concert promoters, and more, are turning to Super League to provide integrated solutions that drive business growth. For more: superleague.com
About Tempest Awards
Each year, the Tempest Awards shines a spotlight on the innovation driving the competitive gaming industry. From production, marketing, events and technology—the Tempest Awards acknowledge each key component making up the entire esports ecosystem.
Media contacts:
Super League
Gillian Sheldon
Tempest Awards
Nicole Cimo