Spotlight
The Story Mob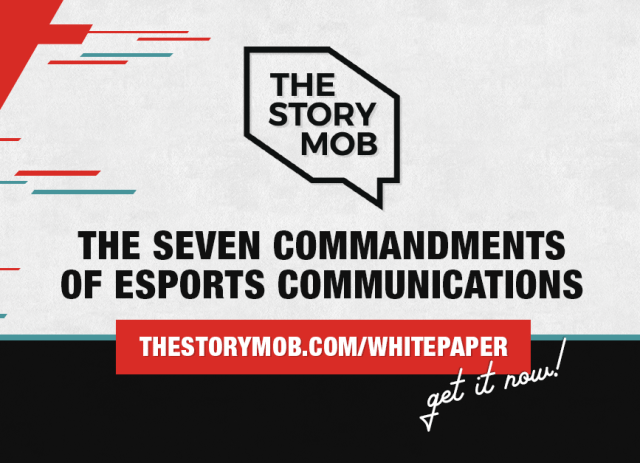 ---
As the esports industry matures, executives are increasingly stressing the importance of effective esports communications. Enter The Story Mob. The agency is today releasing the "Seven Commandments of Esports Communications," a whitepaper designed to give a brand, team or business best practices for effective communication in the world's fastest growing sport. Mantras include: create value; be authentic; be timely; be media savvy; be transparent; be truthful about who you are; and be bold.
Cynopsis asked company co-founder Nicola Piggott about its guidelines, the evolution of esports PR and tips to engage audiences.
Piggott on the rise of esports PR: Although games PR has existed for decades, The Story Mob is the first consultancy solely dedicated to esports. With any new sport, it takes time to build up the support services that help it succeed – from lawyers who understand the ecosystem's complexities to comms pros who are able to help brand speak to its fans. Luckily for us, esports is one of the most exciting and dynamic places to practice communications, largely because the audience is so connected and responsive. With more investment than ever flowing into the ecosystem and teams and brands looking to create stronger bonds with esports fans, now is the time for communications pros with experience to help shape those conversations.
On the whitepaper: We wrote the whitepaper to answer a lot of common questions that we get as esports communications professionals. We've been privileged to work in esports for multiple years, and we care about helping the sport to grow and avoiding pitfalls that hold it back. That's why we wanted to spread the word about a few simple things that we think everyone in the scene should keep in mind when planning out their communications. The commandments may seem obvious – say what you mean, don't fake knowledge or enthusiasm – but too often we see them being broken. I'd like to think that this is relevant for anyone that's looking to speak directly to esports fans – whether or not they have the budget to work with an external consultancy like us.
On good PR/communications: As we say in the whitepaper, esports fans are some of the most demanding – and bullshit resistant! – sports fans in the world. This is a sport born into a post internet world, which means fast and plentiful information, close connections with athletes and the potential for crises to explode in the blink of an eye. Having a thoughtful and thorough approach towards your communications is what separates esports teams and brands from their competitors. Automotive or telecom brands aren't thinking moment to moment – they have decade long brand goals and messaging to help them get there. When we work with brands in the esports space, we encourage the same long view.
On differences and similarities between esports communications and other communications practices:  I've worked as a communications pro representing hotel chains, telecom brands and many more, and although I take a lot of learnings from my experience, esports has really reinvented the rulebook when it comes to communications. I've never spoken to an audience so invested and passionate – and had to work quite as hard to keep up with them. There's dangers everywhere you look – from inexperienced pros thrust into the spotlight or mainstream culture trying to sell us on 'legitimizing' our sport. Equally, there's a sense of potential and exciting unpredictability that you don't get with any other industry. 
We thought about this a lot when we founded The Story Mob. We wanted to strike a balance between communications experience and passion for esports, a willingness to reinvent the rules. Our experience within and outside of esports helps us with that view. Rinse and repeat press conferences, releases or blanket media pitches aren't going to fit in this world, but it's good to know the rules before you break them.
On the seven rules: We approached the commandments as a set of universal truths that we wanted to see more awareness of within esports. We could have been more specific and tactical – given a playbook on how to run an AMA or how to work with a pro or team after a crisis – but our goal was to highlight the values that we should all be holding to. Some of the simpler commandments – 'be truthful about who you are', for example – felt pretty obvious, but we see so many examples of brands making statements that they don't stand by, or claiming standards that they don't apply in their operations. We need to dial things back and help brands articulate who they are, what they bring to the ecosystem and what they stand for. Everything else is window dressing. 
On recommendation: The seven commandments are a great start, but if I had to pick one I'd say be truthful. Being truthful doesn't mean you have to lay everything you're doing out on the table in your communications – but it does mean that you need to mean everything you say, and be ready to be held to it. Too often we've seen brands try to sweep difficult decisions under the table or gloss over mistakes by not owning up to them. Being truthful is what endears you to esports fans – and, as the old saying goes, it takes years to build up a good reputation and just minutes to break one. If you start any communications campaign with the goal to show esports fans who you are as a brand rather than trying to win them over, you're already on the right track. 
On strategies: Although we hope that the whitepaper contributes to the general topic of esports communications, we're not prescriptive or possessive over how it gets used. I recently talked through the seven commandments as part of a guest session for the esports course at UCI Irvine, and we'd love to see aspiring commnications pros use this as a starting point for their own thoughts and careers. We believe that brands and teams are looking for ways to learn and improve their communications as the industry grows and levels up. I would hope that this becomes a meaningful part of that dialog. 
On key learnings: It's difficult to generalize as esports has been experimenting and refining communications approaches since well before we were in the industry. With that said, our major finding was that it's been hard in the past for brands and teams to think with a long-term view, given the fragility and unpredictability of multiple esports ecosystems. This makes communications planning difficult, as you're not thinking in terms of gradual brand building – you're just bouncing from news to news (and crisis to crisis!). The increased stability in the leading esports, as driven by franchise systems and increased commercial investment, has changed that. It's time to start thinking of competitive brands that last for decades – not just seasons. Communications and brand planning play a major part in that shift.
Onthe current state of communications in esports: We're extremely encouraged by the state of esports communications at the moment, and the dedication and time that brands and teams are putting into thinking about their communications strategies. It's one of the reasons we decided to leave our jobs to launch The Story Mob this year – and why we've been lucky enough to work with successful partners who are open to learning and challenging their preconceptions about communications. 
We wrote the whitepaper to recognize the developments in the industry, not just to critique it. We're proud to be part of pushing those changes forward, and we hope to continue challenging ourselves and the clients we work with.
On The Story Mob adding value: First and foremost, we're esports fans. We want this industry to succeed because we're part of the community and nothing beats the feeling of following live esports – whether you're in the stadium or watching from home. Everything we do keeps the fan perspective in mind because of that passion.
It's our goal every day to bring communication learnings and best practices to esports and to make sure that we're growing as a community. We need to learn from the examples around us – sports, entertainment, politics – but celebrate what makes us unique and where we can innovate. We're #blessed to work with partners who believe in pushing the conversation forward, but we'll continue to ask – what can we be doing to serve esports fans better?