News
100 Thieves Snatches Drake in Latest Funding Round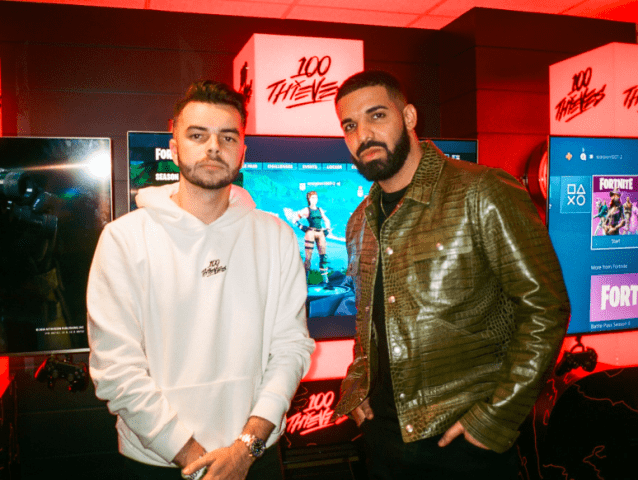 ---
Nadeshot and 100 Thieves announced the completion of its Series A funding round, led by Grammy Award-winning, platinum-selling recording artist Drake and SB Projects founder Scooter Braun. The two will now join founder Matthew "Nadeshot" Haag and Dan Gilbert, Chairman of the Cleveland Cavaliers, as 100 Thieves co-owners. Other new participants in the round include Sequoia Capital, WndrCo, Salesforce CEO Marc Benioff, Tao Capital, Green Bay Ventures, and Advancit Capital.
"It's been exciting to watch esports become a cultural phenomenon in 2018. I've spent my ten-year career in esports growing the ecosystem and am proud to have Drake and Scooter join as my partners to help take 100 Thieves to new heights. Our top priority is to win world championships, but our ambitions go far beyond competitive gaming," said Matthew "Nadeshot" Haag, Founder & CEO of 100 Thieves.  "With Drake and Scooter's support, we're going to build a lasting brand on the back of the content and apparel that our fans have come to love, aggressively expand into more games, scale our apparel business, and build a world-class management team."
As co-owners, Drake and Braun will act as strategic advisors for 100 Thieves. Braun has also joined the 100 Thieves Board of Directors. 100 Thieves has already collaborated with Drake on the custom gaming stations that travel with his current Scorpion tour, and apparel collaborations are underway as well.
"With Matt's experience, talent, and vision as a professional gamer he and his team have built one of the most authentic brands in the ever-evolving gaming space," Braun said.  "We are honored to join the 100 Thieves family during this exciting phase of their professional journey.  I personally could not be more thrilled for 100 Thieves.  This is just the beginning."
100 Thieves has raised over $25 million in funding to date, from investors including Cleveland Cavaliers and Quicken Loans chairman Dan Gilbert, Sequoia, Ludlow Ventures, Courtside Ventures, WndrCo, Salesforce CEO Marc Benioff, Dropbox CEO Drew Houston, Green Bay Ventures, Tao Capital, and Advancit Capital.