News
ELEAGUE & Twitch Deliver Daily Super Punch Late-Night Show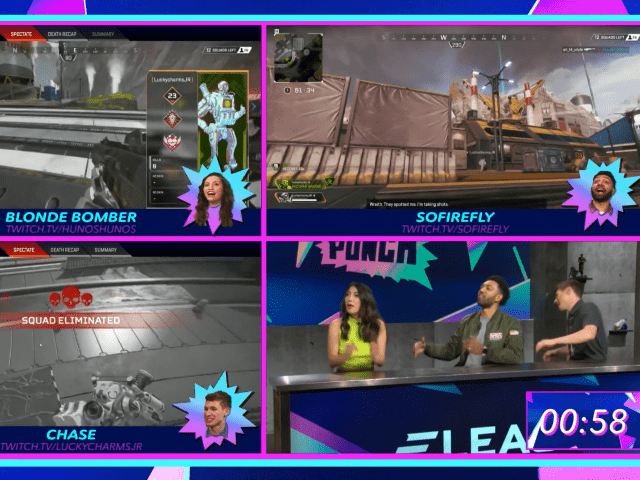 ---
Turner Sports' ELEAGUE and Twitch are teaming up for a "first-of-its-kind, community-driven live show" titled ELEAGUE Super Punch powered by Twitch. The series will look to serve up the week's biggest moments in and around gaming and esports, along with the creators and communities that drive them and will be hosted by Twitch streamers and gaming personalities Ify Nwadiwe, Kelly Nugent, J.D. Witherspoon, and Alex Corea, Super Punch will be formatted as a fast-paced and dynamic take on the late night talk show format with real time engagement built into the live show.
 "Super Punch is a dynamic content offering that is built by games for gamers," said Craig Barry, Chief Content Officer, Turner Sports.  "Combining the platforms and assets of ELEAGUE, TBS and Twitch will create an original take on the culture of gaming, streaming and esports content, delivered in a truly immersive experience for our highly engaged fans."
The series will air on both Twitch and TBS starting in February, running Monday-Friday beginning Feb. 3 at 11p in addition to streaming live on a dedicated Twitch channel. Each Friday, beginning Feb. 21, will also see a special live showcase on TBS from midnight-1a. On each of those Friday nights, Twitch will offer an exclusive, complementary broadcast from 11 p.m.-midnight and 1-2 a.m., around the TBS telecast. ELEAGUE Super Punch Powered by Twitch will originate from Twitch's studio in Los Angeles from Monday-Thursday, with Friday episodes televised from ELEAGUE's headquarters at WarnerMedia Studios in Atlanta.
"We are really thrilled to be working with ELEAGUE and TBS on Super Punch," said Michael Aragon, SVP Content & Partnerships at Twitch. "People on Twitch come together every day to create their own entertainment. What really excites us about the opportunity is not only showcasing the variety and breadth of talent and content on Twitch, but also staying true to the community-fueled aspect that gives audiences a voice and is so core to the experience."
Nwadiwe will host episodes on Twitch from Monday through Thursday, which will lead into Friday showcase editions hosted by Nugent, Witherspoon and Corea.