Esports Business Summit
Esports Business Summit Names 2019 Keynoters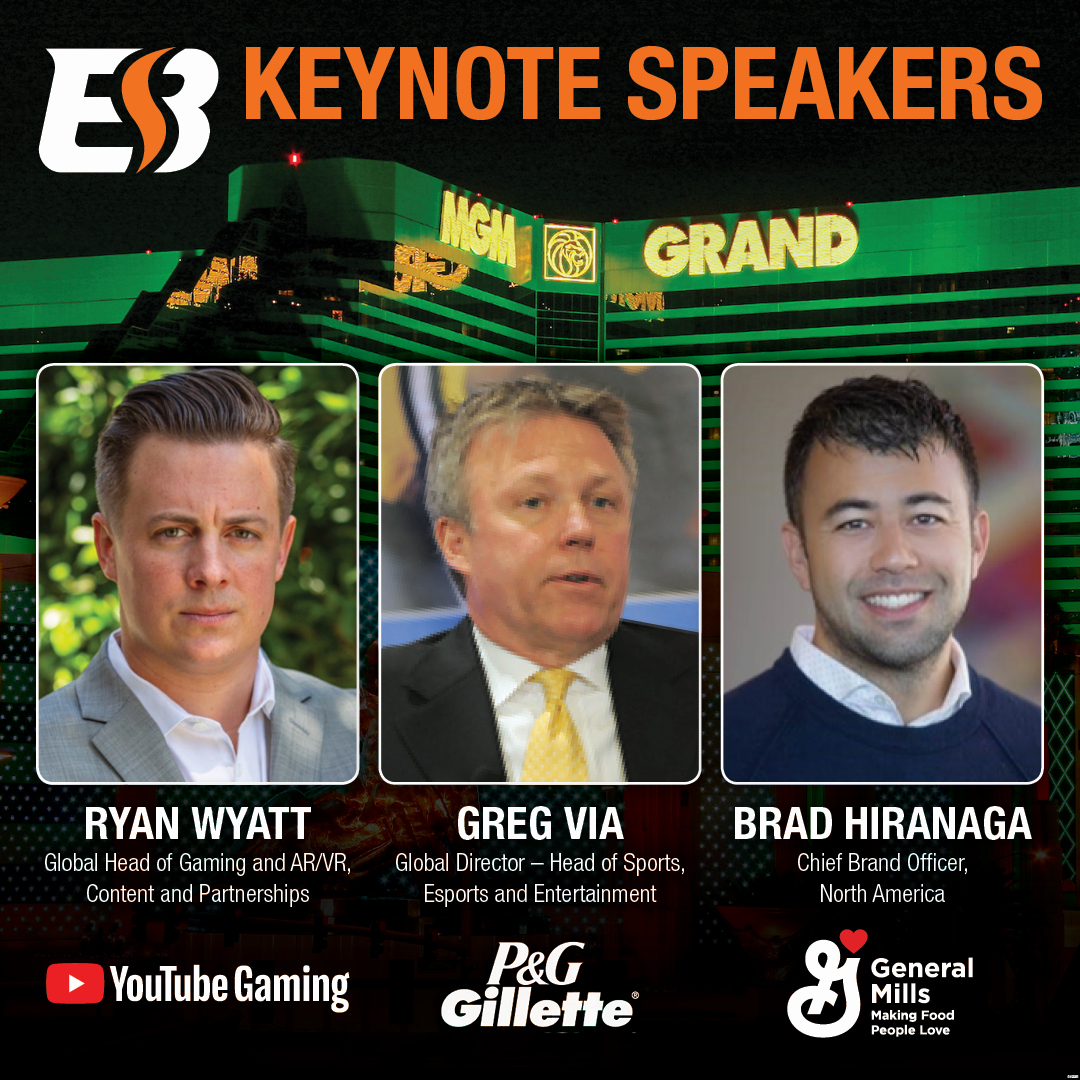 ---
Esports Business Summit—the leading event for the global esports industry slated to run from Sept. 10-12, 2019 at the MGM Grand, Las Vegas, unveiled its 2019 keynote speaker lineup with heavyweights that include:
Ryan Wyatt, Global Head of Gaming Content, YouTube Gaming
Brad Hiranaga, Chief Brand Officer North America, General Mills
Greg Via, Global Director-Head of Sports, Esports and Entertainment, P&G/Gillette
Ryan Wyatt leads YouTube's gaming and virtual reality businesses as the Global Head of Gaming Content at YouTube Gaming. He joined YouTube in 2014 to create the Gaming vertical and has subsequently grown their Gaming platform into a global leadership position. In this capacity, Mr. Wyatt leads the team responsible for managing global gaming publisher partnerships, top gaming creators, live streamers, esports teams and esports leagues. In addition to his gaming role, he leads the global VR business overseeing global strategy, VR first companies, content and operations work, budget development, and cross-functional work.
Brad Hiranaga is the Chief Brand Officer for North America at General Mills, the manufacturer of Cheerios, Nature Valley, Yoplait, Annie's, Totino's and many other iconic food brands. In this role, Mr. Hiranaga leads the Brand Experience organization for North America, which provides the strategic expertise, capabilities and positive agitation to build modern brands, drive a growth mindset, and inspire innovative, bold, frame-breaking, marketing. The Brand Experience organization includes Brand Strategy, Experience Orchestration, Creative, Content, Design, Production, Media, Communications, Brand Public Relations, Social, Experiential, Partnerships, Promotions, Events, Licensing, Marketing Excellence, Shopper Marketing and eCommerce.
Greg Via has been the Global Head of Sports and Entertainment Marketing at The Gillette Company since 2007. He is responsible for Gillette's involvement in the global sports marketplace. Currently, he manages the global partnership with FC Barcelona whose football players include Neymar Jr, Thomas Müller and Antoine Griezmann. Mr. Via is also a member of the team that launched Gillette into Esports partnering with ESL, Twitch, TSM and Boston Uprising. Additionally, he works with Gillette North American leadership to leverage its involvement with the NFL, Gillette Stadium and eSports. He is a member of the P&G Olympic core team that works to activate P&G and its family of brands on a Global Olympic platform.
Now in its second year, the Esports Business Summit provides a unique forum where senior esports executives can gain insight and connect with clients, partners, and suppliers across all sectors of the esports industry. Attendees include senior executives at consumer and business-to-business brands, marketing agencies, television companies, esports teams and leagues, sponsorship firms, game publishers, streaming companies, technology providers, consultancies, investment firms, venues, sports marketing agencies, professional sports teams, and other business professionals looking for education and connections in the esports marketplace.
Themes and topics to be discussed at this year's program include collegiate esports, women in esports, emerging markets, venues and communities, Team CEO roundtables, state-of-the-union addresses from the leading game publishers, fan engagement and metrics, best brand activations, and global perspectives. Visit http://www.esportsbizsummit.com for the most up-to-date program.
The program for the Esports Business Summit was curated by Chris Pursell, Director of Sports/Esports Content for Cynopsis Sports and Jessica Heasley, Content Director of Chief Marketer and Event Marketer, along with the collaborative insights brought by an all-star Board of Advisors.