News
Nielsen Releases Fan Study w/ Twitch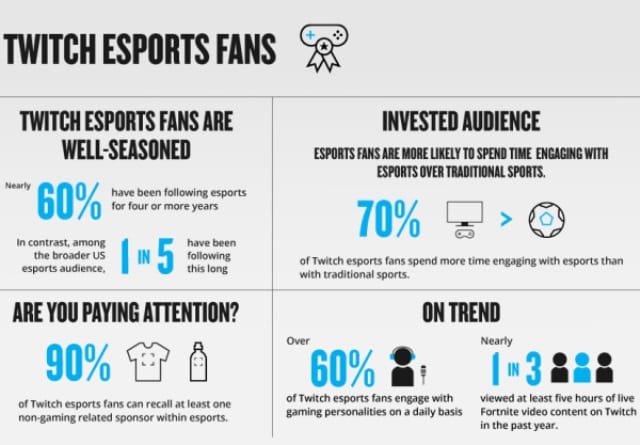 ---
Nielsen released an "in-depth, first of its kind" research study that dives into esports fan attitudes and behaviors in the US. The company blended survey-based attitudes and preference data with Twitch viewership and behavior data from more than 2,000 U.S. esports fans who viewed esports content related to major titles that ranged from League of Legends to Overwatch League to Fortnite and beyond.
"As we continue to support our esports clients, a common theme has been their need for an even more detailed view of the esports audience to support data-driven business decisions," said Nicole Pike, Managing Director, Nielsen Esports. "At Nielsen, we know the power of viewership and how it can enrich an already valuable data set like our Fan Insights work. Given Twitch's depth of content and reach across esports properties, we are thrilled to have the opportunity to work with them since this marks a natural evolution for our annual research."
The result of this Nielsen and Twitch Esports Fan research study will look to guide those looking to make decisions for investments, sponsorship and advertising, as well as help esports organizations effectively demonstrate the unique value their audience brings to the industry.
Insights include:
Twitch esports fans are well-seasoned with nearly 60% following esports for four or more years. In contrast, among the broader U.S. esports audience, only 1 in 5 have been following this long, with 23% new to esports within the past year.
50% of Twitch esports fans have a paid TV subscription service; less than 40% claim to view television on a weekly basis.
90% of Twitch esports fans can recall at least one non-gaming related sponsor within esports.
Esports fans are more likely to spend time engaging with esports over traditional sports – Twitch fans significantly so, with 70% dedicating more time to esports than traditional.
Over 60% of Twitch esports fans engage with gaming personalities on a daily basis, and nearly one in three viewed at least five hours of live Fortnite video content on Twitch in the past year.
"Twitch caters to the many interests of gamers with esports among the more popular types of entertainment we offer," said Andrea Garabedian, VP, Advertiser Marketing, Twitch. "By providing Nielsen with an opportunity to survey our community, they were able to surface data that reflects the passionate nature of our esports fans. Based on the amount of time these gamers spend on our service and their familiarity with the scene, from the games to the sponsors, it is clear that Twitch represents an ideal destination for brands trying to connect with this audience."
Nielsen will now incorporate key findings into its annual Nielsen Esports Report for the U.S. market, as well as leverage the data for consulting services. The data from this landmark research are currently available in the form of syndicated or custom analysis in addition to Nielsen's survey results among the broader esports fan base in the US plus 10 other global markets.