News
WWE Takes Feud to League of Legends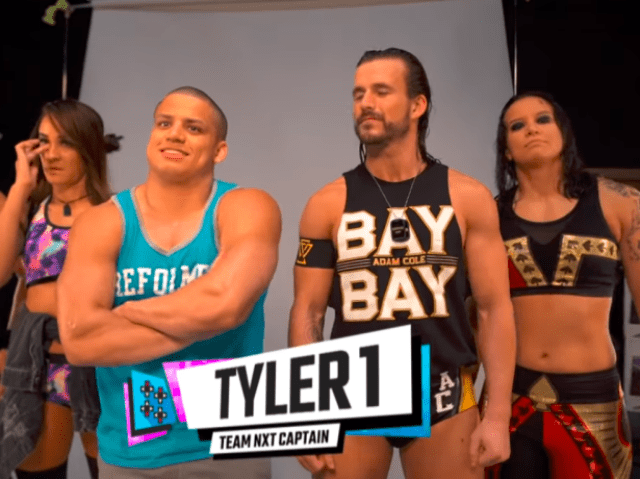 ---
WWE and NXT Superstars announced a partnership with Riot Games that will see League of Legends streamers imaqtpie and Tyler1 each coach teams in a move to settle their "rivalry."
Hosted by WWE's Xavier Woods on WWE's YouTube gaming channel UpUpDownDown, WWE vs NXT: League of Legends will follow imaqtpie and Tyler1 as they train their respective teams of WWE and NXT Superstars to prepare for a 5 vs. 5 showdown that will determine which League streamer can call himself the better coach and player.  
"This partnership with Riot Games gives WWE another global platform to reach our passionate fan base, many of whom are ardent gamers," said John Brody, WWE Executive Vice President, Global Sales & Head of International. "The League of Legends web series on UpUpDownDown will be fun and engaging content for fans to consume our action packed family-friendly entertainment through the world of eSports."
Additional WWE League Of Legends content will appear on UpUpDownDown throughout November and during the NXT Takeover Wargames event, streaming live on WWE Network on November 17 from Staples Center in Los Angeles, California. 
"We always look for ways to highlight the competitive thrill our players find in League of Legends," said John Furnari, Riot Games, North American Marketing Director. "It's really exciting to use these two great rivalries of WWE and NXT Superstars and Tyler1/Imaqtpie to bring that to life."
Other talent taking part in the initiative in WWE's Cesaro, Ruby Riott, Seth Rollins and Tyler Breeze, along with NXT Superstars Johnny Gargano, Dakota Kai, Shayna Baszler and Adam Cole.
The taping of the Final Showdown Episode between these two teams will take place in the NALCS Arena in LA on Nov. 16.