News
2020 Tempest Award Winners Announced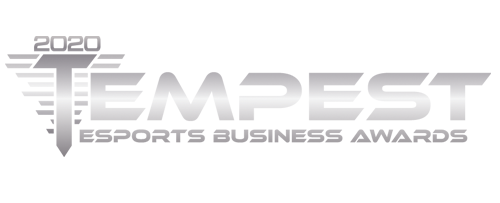 ---
October 28th, 2020
Media Contact:
Nicole Cimo
For Immediate Release
2020 Tempest Awards Announces Winners
Capping the second night of the annual Esports Business Summit, a newly-virtual 2020 Tempest Awards once again paid tribute to the hard work and innovation from the industry's business community drastically impacted by the pandemic. Hosted by ESPN's Arda Ocal and produced in partnership with Super League Gaming, this year's honors once again brought in some of the biggest names in the business, from long-time pioneers to the new generation of executives and personalities who will be driving the business in the years ahead.
Multiple category winners this year included ESL, Bud Light, 100 Thieves, NBA 2K League, Riot Games, ESPN and FaZe Clan, which also took home the award for Team of the Year. Awards were decided from a slate of judges from across the esports industry.
"In an unprecedented and challenging year, it was amazing to not only see the esports community come together to participate in our Awards show, but also be reminded of the amazing work and sweat that went into producing some of the most innovative shows we've ever seen," said Chris Pursell, Chairman of Events at EBS. "Congratulations to all of the winners as well as the finalists and I can't wait to see what's to come next."
2020 Luminaries
2020 Hall of Fame Inductees
Team Liquid Co-CEO Victor Goossens
Team Liquid Co-CEO Steve Arhancet
DreamHack President & Co-CEO Marcus Lindmark
Ambassador Award for Personality of the Year
Eefje 'Sjokz" Depoortere
Sentinel Award
Marcus 'djWHEAT" Graham
Watch List
Joe Barnes-Bud Light
Nicole LaPoint Jameson-Evil Geniuses
Arda Ocal-ESPN
Madison "Maddiesuun" Mann-Gen.G
Kyle Bautista – Complexity Gaming
Angela Roseboro – Riot Games
Mike Pusateri – Bent Pixels
Christopher Tai – Twitch
Eric Gonzales II – PRO ESPORTS GAMING
John Higgins – OS Studios
Anna Schiraldi – Twitch
Gabriella "LeTigress" Devia-Allen
Top Innovator During COVID-19
FaZe Clan
Top Consumer Media Outlet
ESPN Esports
Best Podcast
The Courage and Nadeshot Show
Top Documentary/Non-Competitive Series
NBA 2K League Locked In Powered by AT&T
Best Social Experience
TSM TikTok Launch
Best Social Driver Team
100 Thieves
Top Venue Activation
Bud Light for the Bud Light Payload OWL Finals
Best Brand Activation on Twitch
Honda's 2019 Twitch Takeover
Best Non-Endemic Brand Activation
AT&T DreamHack Atlanta
Best Endemic Brand Activation
Cash App
2020 Brand of the Year
Mastercard
Best Amateur/Collegiate Esports Event
Collegiate StarLeague
Top Mobile Gaming Event
ESL Mobile Open
Best Sports and Sim League
NBA 2K League
Top New League or Series
The Call of Duty League
Top League/Series
League of Legends Esports
Event Production of the Year
The International 2019
Digital Executive of the Year
Eduard Montserrat, Stream Hatchet
Marketer of the Year
Rodrigo Samwell, ESL Gaming
Top Production Executive
Joseph Lynch, Electronic Arts
Top Collegiate Program
Harrisburg University
Team of the Year
FaZe Clan