News
Paris Overwatch Franchise Gets Eternal Life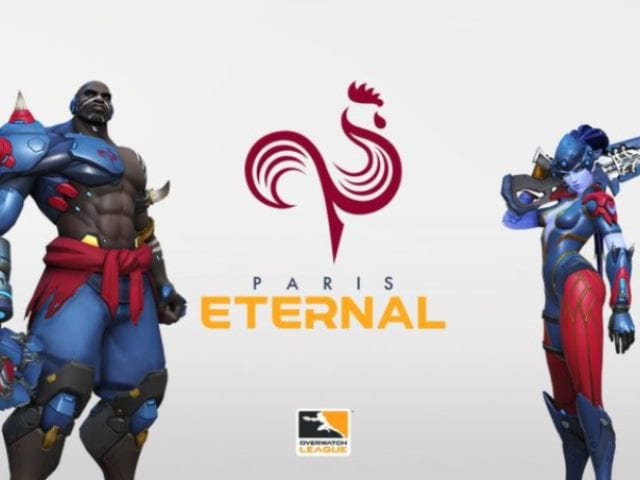 ---
DM-Esports unveiled the moniker and branding elements for the upcoming  Paris-based franchise of the Overwatch League, where they will be known as Paris Eternal.
The team colors are blue, burgundy, black,white and gold. The team logo incorporates an infinity symbol within the body of a digitized Gallic rooster, long the national symbol of France. Futuristic gold font accompanies the mark.
 "We are thrilled to reveal the Paris Eternal brand to Overwatch fans in France, throughout Europe, and around the globe," said Drew McCourt, Owner of DM-Esports.
The Paris Eternal brand can be followed on Twitter @ParisEternal, on Instagram @ParisEternal, and on Facebook at Facebook.com/ParisEternal.
Paris is one of eight new expansion franchises joining the Overwatch League for 2019 and is owned by newly created DM-Esports.
The team recently announced an entirely European roster including: Benjamin "BenBest" Dieulafait (FR), Damien "HyP" Souville (FR), Nicolas "NiCOgdh" Moret (FR) and Terence "SoOn" Tarlier (FR), Karol "danye" Szczesniak (PL), Finnbjörn "Finnsi" Jonasson (IS), Harrison "Kruise" Pond (UK), Roni "LhCloudy" Tiihonen (FI), and George "ShaDowBurn" Gushcha (RU). In addition, Paris recently added Julien "Daemon" Ducros as Head Coach. Julien will be supported by Félix "Féfé" Munch, Joni "Seita" Paavola, and Kyle "Kyky" Souder.
The 2019 Overwatch League season kicks off on February 14, 2019.