News
Super League Gaming Snares Spider-Man Partnership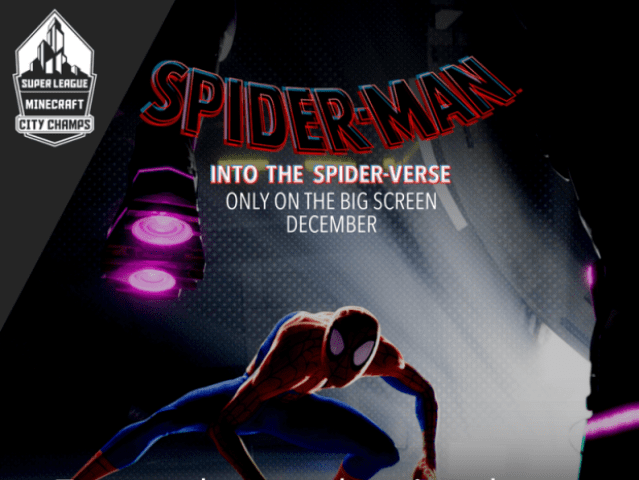 ---
Amateur esports company Super League Gaming unveiled a "first-of-its-kind" collaboration with Sony Pictures Entertainment designed to engage young video gamers through custom experiences connected to the animated feature film, Spider-Man: Into the Spider-Verse, which hits theaters nationwide on Dec.14.
The promotion will span from Oct. 27-Dec. 9 and feature the Super League Minecraft player community given the opportunity to participate in three distinct competitions. In both Super League's Minecraft City Champs tournament and Super League's November Minecraft Monthly program, players will battle in a new Super League mini-game, "Spider-Verse: Domination." In a national online competition, players will be challenged with building their own Spider-Verse inspired creations, which will be available on SuperLeague.com for broad community viewing.
"Young gamers are a critically important audience segment for Spider-Man: Into the Spider-Verse and Super League's experiences present a highly unique platform for us to engage them," said Elias Plishner, Executive Vice President of Worldwide Digital Marketing at Sony Pictures Entertainment. "This is our largest program in the eSports category to date and we're thrilled to have Super League as our partner."
Super League Minecraft City Champs is a city-vs-city tournament across 16 major markets taking place on Saturday mornings in select movie theaters. Each week, 60 players per city compete in multiple Minecraft mini-games. The featured game will be Spider-Verse: Domination, in which 5-person teams will battle to capture and defend points throughout a map of New York City. In one market to be announced, a Minecraft influencer will host a red carpet meet-and-greet welcoming players to City Champs on the first day of competition. Super League's November Minecraft Monthly theme is "The Battle for NY."
"Super League Gaming is a player-first company – we constantly strive to bring more value into the player experience," said Matt Edelman, Chief Commercial Officer of Super League Gaming. "Sony Pictures immediately understood that and encouraged us to design an authentic program to support Spider-ManTM: Into the Spider-Verse that would excite and delight our community. We can't wait for it to launch!"
A top Minecraft influencer will be playing alongside the Super League community and live streaming the action to launch the monthly tournament on November 4th. From December 1st to December 9th, Super League will be hosting an online build competition open to all Minecraft players in the U.S. Players will be invited to use their imaginations to design and build unique Spider-Verse inspired creations in individual spots within New York City, which then will be reviewed by Minecraft influencers who will select and announce the winning builds.