News
TV Azteca Joins Allied Esports Forces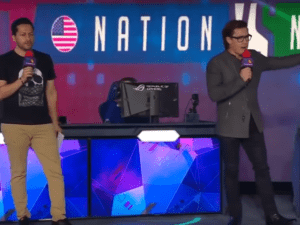 ---
Mexico's TV Azteca, the top sports television network in the country, and Black Ridge Acquisition Corp. entered into a term sheet which would provide for TV Azteca to become a shareholder of Allied Esports through an equity investment in Black Ridge Acquisition Corp. totaling $5 million.  
Earlier this year, Allied Esports and its sister company, the World Poker Tour, announced their acquisition to Black Ridge once all applicable shareholder and regulatory consents have been obtained to form Allied Esports Entertainment.
"Continuing to expand our footprint around the world with likeminded leaders and innovators is imperative to our success, and we are delighted to partner with TV Azteca as we enter Latin America with a smart, aggressive plan," said Frank Ng, co-CEO of Ourgame, owner of Allied Esports. "The Mexican and Latin American market presents incredible potential, and this partnership, featuring two first-movers in esports, entertainment and distribution, is a winning combination."
Highlights from the term sheet include TV Azteca and Allied Esports creating a 24-hour digital esports channel dedicated to esports and video gaming for the Mexican market; TV Azteca and Allied Esports developing a network of esports talent across Mexico and Latin America; TV Azteca and Allied Esports building a flagship esports venue and additional esports and content facilities in the Mexican market; TV Azteca and Allied Esports producing and distributing co-branded esports programming in the market; and Allied Esports developing a localized online esports tournament platform for the market.
The parties intend to collaborate on the design and buildout of a dedicated esports venue, with a concept similar to HyperX Esports Arena Las Vegas, that will be designated as a flagship arena for their growing esports footprint in Mexico. The companies also expect to develop additional regional properties for events and content production. The co-branded flagship and regional venues would join the Allied Esports Property Network, the first global affiliate program launched by Allied Esports in 2018.
TV Azteca and Allied Esports also intend to continue to expand their co-produced esports experiences, content and distribution partnership that was previously announced in May 2019 with the launch of the original series NATION VS NATION. The live event and stream, which took place at Foro Totalplay in Mexico City on May 14 and was Allied Esports' first event and broadcast production in Latin America, featured 40 competitors in a USA vs. Mexico format playing PLAYERUNKNOWN'S BATTLEGROUNDS. The event broadcast in Mexico reached over 2 million consumers in the market.
"Following an exceptional test case with NATION VS NATION, we are confident in our combined ability to truly launch esports in Mexico and Latin America at the highest level," said Rodolfo Ramírez, head of TV Azteca Sports. "We are committed to the success and growth of this partnership, and believe this endeavor has the opportunity to be our most popular entertainment platform yet."