Brand Activation
Bud Light Serves Up LCS Partnership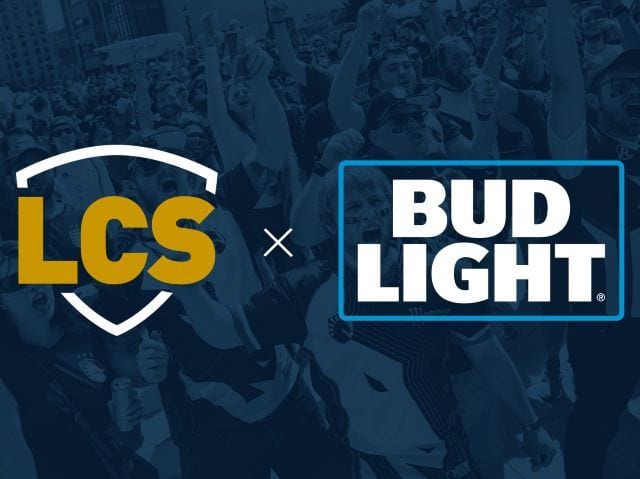 ---
Bud Light's latest endeavors in esports will see the brand serve as the newest LCS partner and the official beer of the league as it prepares to open a new season.
Dealpoints will see Bud Light offered at all LCS events (including at LCS Arena and Split Finals) via mobile bars and beer gardens, of course, while Bud Light will be delivering "How I LCS" themed viewing parties, presenting one of the most celebratory moments in LoL, the "Ace Moment," on LCS broadcasts, and supplying our new post-show after Monday Night League, which will be streamed across the LCS and Bud Light's Twitch channels.
"We are thrilled to be partnering with League of Legends and becoming the official beer sponsor of the LCS. Bud Light has always been a leader in cultural moments across sports and entertainment," said Joe Barnes, Director of Sports Marketing, Bud Light. "Esports, particularly, League of Legends gives us a great platform to recruit and engage with new consumers. From our viewing parties, to the 'Ace Moment' and the after-hours post game show, we look forward to reaching new fans as they consume all their favorite League of Legends content."
In addition, LCS and Bud Light will collaborate on a bespoke "after hours" post-show, name forthcoming, airing exclusively on Bud Light's Twitch channel, complete with LCS talent, special guests, and easter eggs throughout the season.
"Sipping a Bud Light and cheering on your team is a time-honored tradition of sports, and the LCS is proud to join that tradition and introduce brand new ways for fans to enjoy Bud Light alongside their esport of choice," said Matt Archambault, Head of Partnerships and Business Development, Riot North America. "Bud Light brings fun and creative energy to everything they touch, with a passion for all professional sports and a core understanding of the supporting community and fanbase. We can't wait to share everything we have in store for fans this year and I'm truly excited to celebrate every Ace Moment in the LCS by raising an ice-cold Bud Light."