Brand Activation
Misfits Gaming Rings Up SoFi Partnership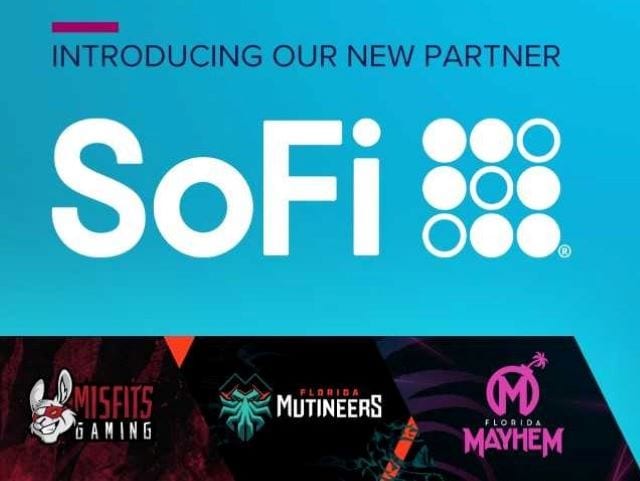 ---
Misfits Gaming Group picked up a new partner in SoFi, the digital personal finance company, that will span across Misfits Gaming US, the Florida Mayhem and Florida Mutineers. The exclusive marketing rights deal will include the main jersey patch position across Misfits Gaming Group US properties, as well as the presenting sponsor for upcoming Florida Mayhem and Florida Mutineers live events. SoFi is one of the first fintech companies to sign a deal of this scope within esports.
"Esports is driven by ambition, from fans to players and aspiring athletes or professional competitors. Misfits Gaming Group is founded upon ambition, diversity and integrity, and we are excited to partner with SoFi, a brand that not only shares our core values, but also is a pioneer in digital personal finance, redefining the industry with their support and tools for success," said Ben Spoont, CEO and co-founder of Misfits Gaming Group. "SoFi is a true industry innovator and their forward-thinking approach to personal finance is a natural fit for the tech driven esports industry. Through our partnership with SoFi, it's our goal to provide a platform for players and fans to learn more about personal finance, and enable them to achieve their goals."
MGG and SoFi will work together to produce custom content pieces to run across MGG social channels tailored around personal finance and achieving ambition. 
"We are thrilled to be partnering with Misfits Gaming Group on this initiative," said Lauren Stafford Webb, CMO of SoFi. "With a shared passion for drive and forward-thinking, this sponsorship is a natural fit for the SoFi brand."