Brand Activation
Dignitas lands Champion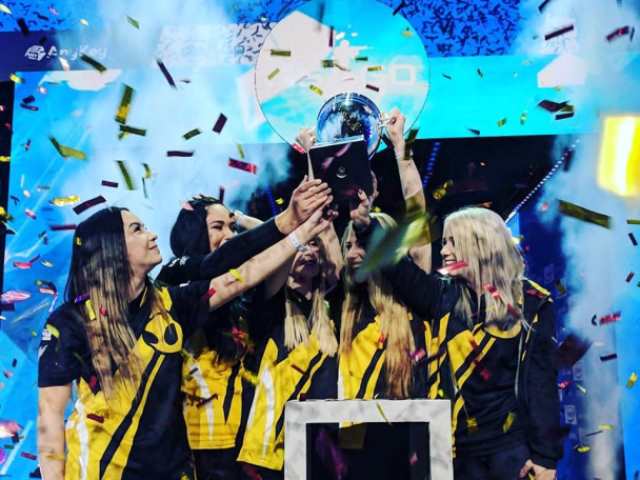 ---
Champion is taking on the esports industry. The athletic brand is partnering with Team Dignitas in a multi-year partnership that marks the brand's first esports team and franchise partnership and foray into the esports ecosystem.
The brand now becomes Team Dignitas' Official Jersey, Casual Wear and Athletic Wear Provider, launching a new casual, fan-focused apparel line and online store alongside the franchise's highly anticipated Fall 2018 rebrand. Acknowledging the growing women's esports fan and player base, heightened by the popularity of Team Dignitas' World Champion Women's Counter-Strike: Global Offensive Team, Champion will develop a Team Dignitas-branded women's apparel line.
"The opportunity to partner with the apparel company that literally invented one of the most essential retail pieces in any esports player and fan's wardrobe — the hoodie — is truly appropriate," said Team Dignitas CEO Michael Prindiville. "Champion and Team Dignitas are uniquely aligned in the trajectory of our businesses. Champion's recent reemergence into pop culture mirrors Team Dignitas' incredible renaissance in fan popularity and dominance in competition. Our brands and our businesses have never been stronger.  As we continually build and evolve our brands, we look forward to innovating with the Champion design team to develop a style that excites our fans and motivates our players in competition. We are confident that Champion's industry-leading distribution platforms and emphasis on customer service will connect Team Dignitas fans with the looks they crave efficiently."
The deal will see Champion leverage its substantial resources and best practices in merchandise, customer service and product distribution to design and operate an online retail platform for Team Dignitas fans. Beginning in Fall 2018, and alongside the franchise rebrand and associated merchandise launch, Champion logos will appear on all Team Dignitas' player jerseys. In association with the partnership announcement, 12 popular Team Digntas players, including World Champions, including Amanda "rain" Smith (Team Dignitas Women's CS:GO), and Jos "VioletPanda" va Meurs (Team Dignitas Rocket League) will stream "unboxing" videos of Champion.
"It is extremely exciting for us to be partnering with one of the original esports teams, steeped in experience and success," said GM of Champion Team Athletics Tyler Lewison. "We will be working hand-in-hand with Team Dignitas to refresh their brand and engage the gaming community.  Additionally, we are focused on partnering to create more opportunities for women in gaming; and their associated fanbase.  It is an exhilarating time in esports!  The industry continues to grow rapidly and we are ready to further accelerate this evolution on a global stage. Team Dignitas represents a diverse set of players in a wide-range of popular games, and with this partnership we can collaboratively and positively influence the direction of the industry for gamers at all levels."