Brand Activation
Gen.G Taps Bumble to Form its First All-Women Esports Team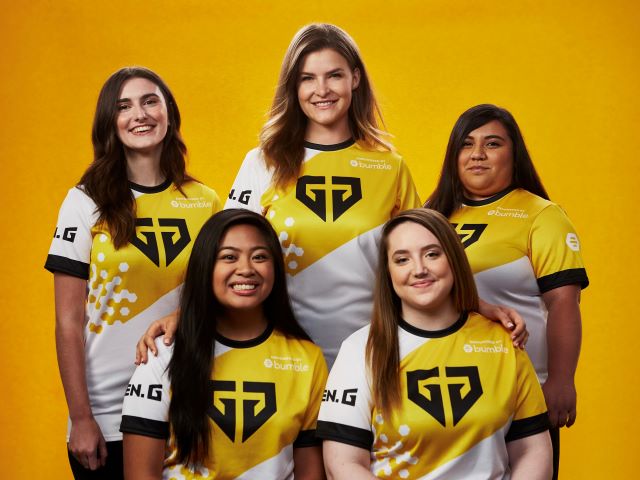 ---
Esports org Gen.G closed a partnership with Bumble, the "women-first" social networking app with over 65 million users worldwide, to form Gen.G's first ever all-women esports team, Gen.G Empowered by Bumble (Team Bumble).
Through the deal, the two brands will also develop new platforms to drive empowerment in the gaming community. Bumble has now added a 'gaming' badge that Bumble BFF users can easily showcase on their profiles. Gamers on Bumble BFF can now filter their matches to find other gamers to connect with in their communities.
"We take seriously our opportunity and responsibility to support emerging segments of the esports community, especially by creating and strengthening platforms for women," said Chris Park, CEO of Gen.G. "Within Gen.G and beyond, we are building a platform that reflects and enthusiastically champions the diversity of our global fan base. The indispensable voices of women in our executive team — including our Head of New Gaming Initiatives, Head of US Content, and Head of Creative Design & Merchandising — are no doubt key to realizing this mission. But we can and need to do so much more. Bumble's partnership with Gen.G will create more inclusive, supportive environments in which all passionate esports athletes can compete and connect."
In addition, Bumble will become an official partner for Kristen Valnicek (@KittyPlays), Gen.G's Head of New Gaming Initiatives, as well as partner to #TeamKitty, a network of hundreds of women gamers and streamers organized by KittyPlays. Gen.G and Bumble will develop custom content and deploy a series of activations including co-hosted events, live-streaming opportunities and more, utilizing KittyPlays and #TeamKitty.
"I'm honored to partner with Bumble to make a lasting impact in gaming! Bumble is a visionary company in technology, media, women's empowerment, and facilitating human connection, which perfectly aligns with my own vision of inspiring positivity and empowering my audience," said Valnicek. "Bumble is in the unique position of providing value to an entire generation of gamers, encouraging them to strive for their goals and facilitating ways to connect them IRL. The future is bright and I can't wait to see the impact we make together!"
Gen.G and Bumble will also co-develop custom merchandise for the Fortnite team and other Gen.G championship teams. The Bumble esports team will have a dedicated Bumble streaming room at the Gen.G training facility in Los Angeles, which will host professional players and streamers.
"Our mission at Bumble is to empower women around the world, and we're proud to partner with Gen.G to continue expanding into the esports and gaming communities," said Chelsea Maclin, VP of Marketing at Bumble. "We're trying to support the women who are already building incredible communities in gaming. We've built strong communities through Bumble and Gen.G and we're excited to work together to help bring the gamer community together in real life. Together with Gen.G, we want to empower women trailblazers, and make it easier for them to connect with their community whether it be through dating, friendship, or networking."