Brand Activation
Madden NFL Championship Series Opens Doors to Pizza Hut Stadium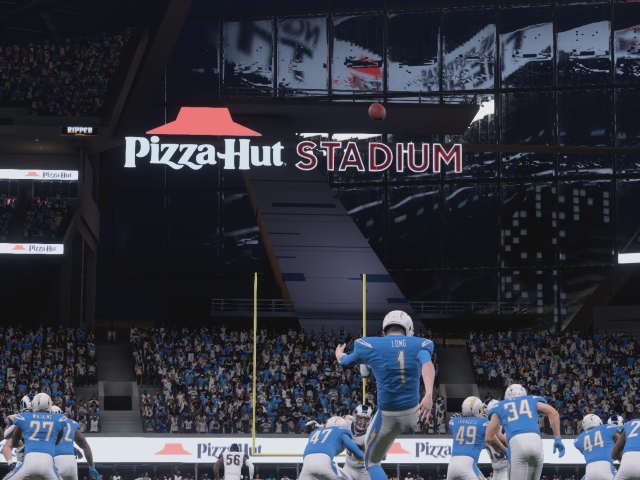 ---
The NFL and partner Pizza Hut opened the doors to the first-ever virtual stadium deal in esports in Pizza Hit Stadium as part of the EA SPORTS' Madden NFL 20 Championship Series.
This year's MCS "enhances the connection to the sport as all four Madden NFL Major tournaments occur during key NFL moments – the NFL Kickoff, the NFL playoffs push, the Super Bowl and the NFL Draft," with Pizza Hut as well as Snickers serving as sponsors.
"Pizza and sports go hand in hand, and esports is no exception," said Marianne Radley, Chief Brand Officer at Pizza Hut. "Pizza Hut has always been a trailblazer in the gaming space, from the days of tabletop Pac-Man in our restaurants, to now, becoming the first-ever brand to have an official virtual stadium rights deal in esports. The goal of all our partnerships is to create 360 fan engagement and we are thrilled to join forces with EA Sports to create memorable experiences that connect fans to their favorite sports like never before."
Stadium specs feature a seating capacity is about 71,000, with a footprint is about 770,000 sq. ft. and 381 total luxury suites in the stadium.
The Madden NFL 20 Classic takes palce August 30-September 1 and is held at Esports Stadium Arlington. Fans can also compete to represent one of the 32 NFL teams in the Madden NFL 20 Club Championship running from Dec. 18-21. Next is the Madden NFL 20 Challenge occurring January 30-February 1 during Super Bowl weekend. The Madden NFL 20 Bowl concludes the MCS season during the NFL Draft April 23-25.
 Last season was a monumental year for the Madden NFL Championship Series as millions competed and we achieved record viewership," said Matt Marcou, Madden NFL Competitive Gaming Commissioner. "In continued partnership with the NFL and its 32 clubs, we intend to accelerate player and spectator growth by aligning closely with the NFL calendar. Football fandom and Madden NFL engagement feed off each other and we're confident this connection will further inspire our players and spectators."
MCS Major live tournaments will occur in Pizza Hut Stadium – the new home of competitive Madden NFL. Pizza Hut Stadium is the first-ever official virtual stadium rights deal in esports. SNICKERS will return for another season after its Madden NFL 19 highlights integration and MCS Moment of the Year Award voted on by the Madden NFL community.