Brand Activation
Overwatch League Partners Prepare for Grand Final Payload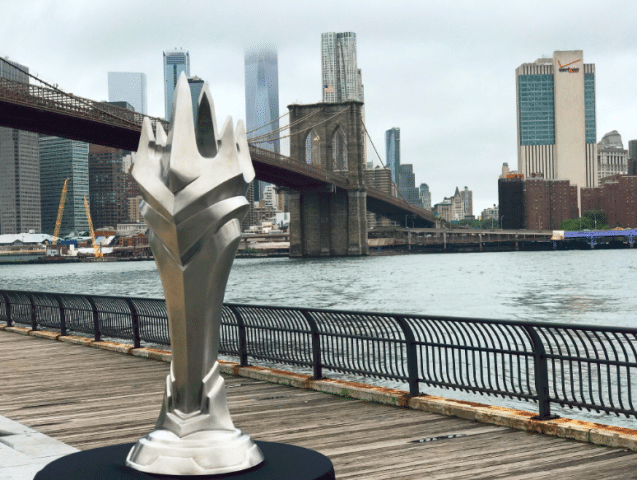 ---
The Overwatch League released activation details for the upcoming Overwatch League 2019 Grand Finals taking place this weekend in front of a sold-out crowd at the Wells Fargo Center on Sunday and livestreamed on Twitch in 190 countries and broadcast on ABC from 3–6p. Philadelphia native Questlove will serve as the in-arena DJ for the event during breaks in the action.
Before the match begins, sponsors will serve up a slate of activations at the Overwatch League's 2019 Grand Finals Fan Fest. Among the partnerships on display will be:
Xfinity, the presenting sponsor of the Overwatch League 2019 Grand Finals, is sponsoring a 360-degree photobooth where fans can pose for custom videos. Xfinity will also be distributing thundersticks as fans enter the arena.
Bud Light will be operating a Fan Lounge for fans 21 and over in the Wells Fargo Center parking lot at Fan Fest featuring custom screen-printed t-shirts. In addition, Bud Light is sponsoring the Overwatch League Signing Wall on the arena concourse, and they're creating a Watchtower Bar inside the arena for fans to congregate, enjoy a beverage and watch the match together. Bud Light will be making more announcements regarding some special surprises for their activations later in the week.
Coca-Cola is sponsoring a foam pit photo station where fans will emulate the Tracer action pose before a picture is snapped and they land in foam cushions below. Coke will also be displaying Overwatch League branded Share a Coke bottles.
Fanatics will be providing a merchandise area within the Fan Fest and offering exclusive 2019 Grand Finals gear celebrating the competing teams.
Kellogg's is offering samples of Cheez-It Grooves and Pringles Wavy products throughout Fan Fest to keep attendees fueled for the day-long party.
State Farm will offer fans an opportunity to support their favorite teams with a digital sign-creation station where attendees can design and digitally print a custom cheerful sign to bring into the Wells Fargo Center. Inside the arena, State Farm will offer fans the chance to hand-write their own sign to cheer on their favorite players and team.
T-Mobile is sponsoring the Heroes Lounge at Fan Fest, an area for fans to sit, relax, and charge their phones. T-Mobile is also offering fans the chance to take a photo with the Grand Finals MVP trophy on a replica Grand Finals stage.
Toyota is arriving at Fan Fest with cars wrapped in Vancouver Titans and San Francisco Shock branding. Fans can enter each car for an immersive A/R experience, which will include custom Overwatch League highlights and more.
Upper Deck is allowing fans to create their own Overwatch League trading cards, and will be giving sample packs to Fan Fest attendees.
In addition, DJ Ghost will be the on-site DJ for the Overwatch League's Fan Fest, which will also include a Rivalry Station and Prize Wheel. Fans will also have the chance to run out of a replica player entrance tunnel. In addition, DreamSeat and Tespa will be activating on-site at 2019 Fan Fest.